This year I went a bit photo crazy. Few F1 races, new Nikkon and result is over 2000 photos on my hard disk. You can see some of them in the Race Photos galleries here, some I selected and made available for download in high resolution. Then I found the Blurb website and realized that it is very easy today to turn photos into a book. And that is what I have done. I selected 120 photos from my 2007 Formula 1 collection and arranged them into a 50 pages hardcover book.
I did it mainly for myself and for friends but it is available for anybody who might be interested.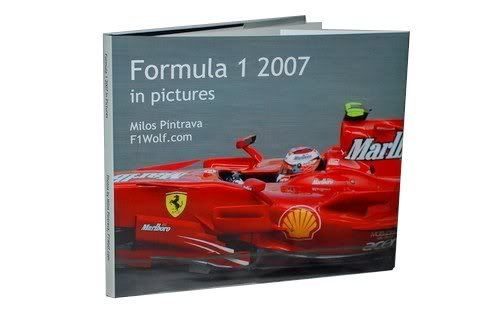 This book is printed to order, piece by piece, but still at reasonable cost for a hardcover (otherwise I would not have printed it
). The format is 10 x 8 inch (25 x 20 cm) and the book includes:
1) Photos of all the teams and drivers – always 4 small and one large photo – examples you can see attached. Only guy missing is Winkelhock. Sorry, I did not go to Nurburgring and missed his 5 minutes of fame.
2) Extra photos of the top 4 drivers – Raikkonen, Hamilton, Alonso and Massa
3) Cockpit close ups
4) Few "did not finish" cars
5) Photos of Barrichello's colour changing helmet in 3 different colors
6) Photos of several drivers out of their cars
7) Few paddock and pit lane faces
8 ) Several photos from the pit lane
9) Few photos of cars after the race
Front cover features Kimi Raikkonen, back cover shows Kimi Raikkonen and Lewis Hamilton
(more pictures inside the post)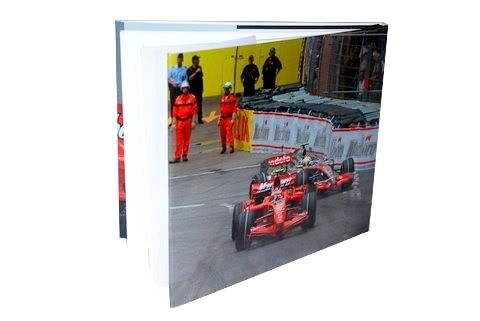 The book is rather neutral, the reason I placed Kimi on the cover is – he is the champion.
One book costs US$40 + shipping, the publisher Blurb offers 10% off for orders over 10 pcs. If anybody is interested please contact me via the contact form or leave a comment under this article. I will advise the exact cost according to the destination.
I am giving away one book to a lucky draw winner. I will enter into the draw everybody who orders the book before December 5, 2007 and has subscribed to F1Wolf.com by email. If you haven't subscribed yet, you can do it here now.
Here are few shots from the book: