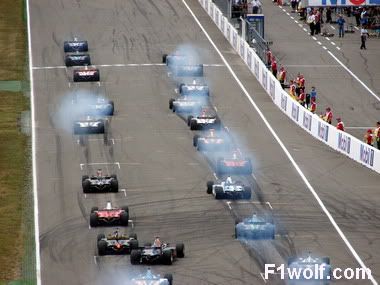 Jarno Trulli expressed suspicion that some teams may have found a way around the new standard ECU developed and supplied by McLaren Electronic Systems.
"I'm not going to name any names, but I think that some teams have already found a way to automate the starting procedure and reduce to the minimum the chance of spinning the wheels under acceleration. I'm not saying someone's cheating, even though we've received some conflicting information at Toyota. But having analysed the behaviour on the track both now and in the tests in December, the changes between them are many – and in several cases suspicious."
Autosport also reports some "Paddock sources" saying that some cars did sound different under heavy acceleration during last week tests in Jerez. Only Honda and BMW did not run in Jerez last week, so if what Trulli says is true, there are quite a few suspects. The teams would be stupid to use something outright illegal, but pushing the limits to the edge of legality is common in the competitive world of F1. Remember BAR and their fuel tank in 2005 (banned for 2 races), Renault and their mass dampers in 2006, Ferrari and their flexi floor in Melbourne 2007…
The implementation of the standard ECU, was one of the reasons why it was possible to ban the traction control. It has been banned before, but quickly everybody found a way around it somewhere deep inside the car electronics and FIA had no other way than to make the TC legal again. Standard ECU should have been (among other things) a solution to the problem policing the TC ban.
If some of the teams indeed found a way around the standard ECU after only few months of working with it, than the TC ban might be shortlived again. It would be interesting to see what action (if any) will FIA take. Trulli may be right or he may be wrong. But in any case I hope that FIA goes ahead and investigates Trulli's suspicions now. If there are to be any rulings on legality of any cars, FIA better make them before the racing begins. It would be nice if the 2008 Formula 1 season can start without a controversy.