On November 7 the news broke out that Alonso is close to signing a deal with Renault, announcement was expected later that week.
Then only a day later Renault was summoned to the World Motor Sport Council to answer spying allegations. Coincidentally about the same time some sites reported that Alonso's manager was talking with Red Bull. This started all sorts of theories, including Bourdais staying one more year in the US and Coulthard making room for Alonso by moving to Toro Rosso. This has been rubbished since by Bourdais, but not by Red Bull or Toro Rosso teams, at least I haven't spotted it.
After the Renault spy case hearing news I wondered whether Renault and / or Alonso will be in a position to sign anything until the ruling is out, and that will be December 6 if there are no appeals.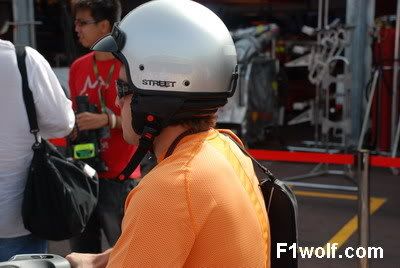 With no news about the Alonso / Renault deal and no fresh indications he is in talks with anybody else it really may be the case that nothing will happen till the Renault ruling is out …
Perhaps the text on scooter helmet on the picture above points into his next destination
Just kidding …