None of the 2007 top 4 drivers was in action (one of them does not even have a team as we speak) but still, to jump in a car after year away and top the time sheets is impressive. Love him or hate him, Schumi still has it. Some of the current drivers should hope he does not start enjoying the track action again…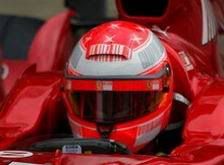 Coulthard gave him thumbs up:
"I think there is a guy called Michael. It looks as though he's got a talent. He will make his way to F1."
But some were not impressed even before the test:

"For me Schumi's test is nothing but advertising for Marlboro, just like his recent ride on a Ducati."
This came from Niki Lauda, who spent better part of his racing carerr in Marlboro sponsored and painted McLaren.
The tests were probably focused on testing the new standard McLaren/Microsoft supplied ECU (Electronic Control Unit) and running without traction control. As most of the cars were seen moving around the track it looks they managed to get the ECU working.
Many test drivers and quite a lot of F1 hopefuls took to the track. It will get more interesting today and tomorrow with Liuzzi and Klien pretty much fighting it out for the Force India race seat…
Day 1 Results Barcelona:
1. M.Schumacher – Ferrari – 1:21.922
2. Badoer – Ferrari – 1:22.129
3. de la Rosa – McLaren-Mercedes – 1:22.687
4. Kovalainen – Renault – 1:22.802
5. Kubica – BMW-Sauber – 1:22.883
6. Paffett – McLaren – 1:23.008
7. Nakajima – Williams – 1:23.187
8. Coulthard – Red Bull – 1:23.332
9. Trulli – Toyota – 1:23.624
10. Heidfeld – BMW-Sauber – 1:23.671
11. Rosberg – Williams – 1:23.847
12. Montagny – Toyota – 1:23.861
13. Vettel – Toro Rosso – 1:24.048
14. Zuber – Honda – 1:24.065
15. Bourdais – Toro Rosso – 1:24.193
16. Davidson – Super Aguri – 1:24.246
17. Rossiter – Honda – 1:24.480
18. Chandhok – Red Bull – 1:24.896
19. van der Garde – Force India – 1:25.317
20. Rodriguez – Force India – 1:26.973