BMW Sauber



BMW Sauber team surprised many this year and claimed the best of the rest title. After the exclusion McLaren exclusion that meant no 2 in costructors table.
They declared ther intentions right at the race 1 in Melbourne. Nick Heidfeld finished in strong 4th place, well clear ahead of Renaults. Kubica however suffered from their early season reliability issues and did not make it to the chequered flag. In the next race in Malaysia, Nick Heidfeld found himself ahead of Felipe Massa after Massa's failed attempt to overtake Alonso. He managed to keep Massa behind and claimed the second 4th place in a row. Kubica again suffered car problems and finished way down the field and outside the points.
It took 3 races, but after Bahrain Kubica also had points under his belt for 6th place. However the way Heidfeld overtook Alonso and kept him in bay counts as one my highlights of 2007 season. Third 4th place in a row for Heidfeld. By now BMW Sauber were clearly established as 3rd best team.

Spanish GP brought some change in fortunes. Heidfeld retired with gearbox problems. It was Kubica's turn to finish 4th. Then to Monaco – the rare race where BMWs were outpaced by Renault, at least by Fisichella. However 5th and 6th meant another solid point scoring finish for the team.
Canadian GP brought the scary crash of Robert Kubica. To the relief of the team and all the fans quite unbelievably he escaped only with bruises. Nick Heidfeld emerged from the chaotic race in 2nd place and claimed the first podium of the season for the BMW Sauber team. The doctors did not allow Kubica to race in the following US GP and Sebastian Vettel made his F1 debut. Not really a spectcular race for him, but he brought his car home safely in 8th, scoring a point on his race debut. Nick Heidfeld retired from the race after hydraulics problems.
French GP saw Kubica's return to racing. BMW cars took full advantage of one of the top 4 cars not having the best of days, and finished 4th and 5th, Kubica beating Heidfeld this time. They further strengthened their solid grip on the 3rd place in constructors table. Next race, the British GP brought similar result, Kubica again 4th and Heidfeld 6th, with Massa splitting them.
European GP was opportunity lost. The rain brought chaos and safety car to the race. But instead of benefiting from the situation 2 BMW drivers colided and sent each other down the grid.

They salvaged some points from the race for 6th and 7th places, but they must still be scratching their heads thinking what could have been…
They redeemed themselves in Hungary. Strong race from Nick Heidfeld resulted in his second podium of the season for 3rd place. Kubica was not too far behind at 5th. Nick Heidfeld continued with impressive performances in Turkey, finishing 4th. Kubica scored points as well for 8th place.
Monza was the place of the first podium for Robert Kubica back in 2006. He did not repeat his podium performance this season, but Italian GP was another impressive race for the team – 4th for Heidfeld and 5th for Kubica. By this time Renault was too far behind to challenge them, Ferrari and McLaren too far ahead, and so BMW could shift their focus to the development of 2008 car. Moreover, before the next race in Belgium they got promoted to the 2nd place in constructors table, after the McLaren exclusion. Nick Heidfeld still kept on scoring points, finishing 5th in Belgium. Kubica this time lost out and only managed 9th.
Japanese GP was one of few that did not go BMWs way. Nick Heidfeld retired with 2 laps to go and Robert Kubica finishing 7th. The second worst result of the season for the team to date, sign of 2008 development having priority perhaps.
China could have been the highlight of the season for the BMW. Could have been, but it turned into a sort of a nightmare. Both cars suffered technical problems during the practice sessions.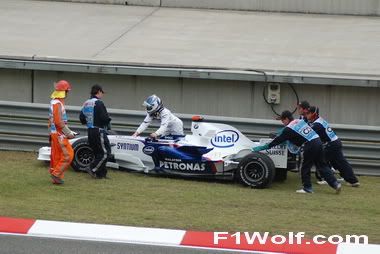 Race was again thrown into the chaos by rain showers and then drying track. Robert Kubica found himself leading the race with genuine change to go full distance, only to retire from the lead on lap 33. Nick Heidfeld at least managed to finish 7th scoring yet more points.


In the final race in Brazil the BMWs were beaten by Nico Rosberg's Williams, but 5th and 6th place for Kubica and Heidfeld meant the BMW team scored points in every single race of the season.
The fuel temperature issue may still change the result of the last race, but it will not diminish the achievments of this team in 2007. They went long way since the BMW's takeover of Sauber team. Their next aim are some race wins and they do have drivers capable of winning races. They have shifted their resources and attention to 2008 car development several weeks ago and this may be an advantage over McLaren and Ferrari. But repeating 2nd (3rd) place in constructors championship will not be easy. Ferrari and McLaren are not going away, Renault will do their best to bounce back, and Honda, Williams, Red Bull and Toyota will not want to stay behind.
Renault



Renault entered the season as defending champions. They however lost 2 of the pillars of their recent successes – Fernando Alonso and Michelin. The close fight with Ferrari towards the end of 2006 season also delayed the full scale work on their 2007 car. Add the wrong reading of the wind tunnel data and drop down the grid is on the cards. Fernando Alonso was replaced by roookie Heikki Kovalainen and the team was effectively starting the season with Giancarlo Fisichella as their no. 1 driver…
The first race was a big disapointment for Renault. The race had shown their car was clearly lacking pace not only to Ferrari, their main competitors in 2006, but also to McLaren and BMW. On top of that Heikki Kovalainen's race debut was a nightmare rewarded with some not exactly nice words from Flavio Briatore.
Kovalainen did make up for his errors and scored his first point in Malaysia and in Spain he went on to beat Fisichella for the first time (7th vs. 9th). But it took Renault 5 races, to finish ahead of BMWs. Fisichella finished 4th in Monaco where his Renault outpaced both BMWs fair and square.
In Canada Fisichella together with Massa ignored the red lights in the pit lane. Black flag and exclusion from the race followed. Heikki Kovalainen however had his best race so far in F1 finishing 4th, within sight of 3rd placed Wurz. Another impressive Kovalainen's performance followed in US – 5th place. Fisichella finished 9th and Heikki started to gain upper hand over his more experienced team mate.
Kovalainen's good run came to an end in France. He was hit by Trulli right after start. He continued after pit stop, but 15th was the best he could do. It was a pity as on that day the pace of Renault was quite close to BMWs and Fisichella finished 6th only few seconds behind Heidfeld. In Silverstone both Renaults scored points, Kovalainen finishing 7th and beating Fisichella again.
In the chaotic wet European GP Kovalainen finished 8th ahead of Lewis Hamilton. Fisichella again beaten by his rookie team mate. In Hungary Renault did not seem to have the pace, but unlike Fisichella, Kovalainen again managed at least 8th place and a point. By now it was clear which driver in the team has the upper hand. Turkey and Italy were another confirmations of the fact. Solid 6th and 7th for Kovalainen, only 9th and 12th for Fisichella… Not a good signs for a driver out of a contract after the end of the season…
Kovalainen continued his point scoring streak in Belgium too. He finished the European season with 8th place. Fisichella spun off on lap one. Then came Japan and the highlight of the season for Kovalainen and Renault. After winning a beautiful fight with Kimi Raikkonen, Kovalainen finished the race in 2nd, scoring first and only podium for Renault in 2007. Fisichella claimed 5th – the best result of the season for Renault. These were however also the last points the team scored in 2007. What a difference can a year make …
They did not manage to repeat the good result in China. Both cars finished outside of the points, Kovalainen 9th, Fisichella 11th.
Heikki Kovalainen went to Brazil as the only driver with 100% finishing record in 2007. But he did not go all the way and spun off on lap 35. Fisichella did the same, but 33 laps earlier.
So what is next for Renault ? We may know something soon. There seems to be a Tuesday deadline for some sort of news on Fernando Alonso. At the moment none of the 2007 Renault drivers has a contract for 2008, a brand new line up is possible. Heikki Kovalainen definitelly proved himself worthy F1 after a shaky start. But Giancarlo Fisichella did not do himself too many favours this year and it may well happen we have seen the last of him in F1.
Same as the BMW team Renault could afford to shift their attention to their 2008 car much earlier than the top 2 teams. Last time they did that was during the second half of 2004 season, in 2005 they emerged as champions. I would not bet against them being a serious contenders again in 2008 season…
Next Williams and Red Bull