Formula 1 will come to Shanghai for the fourth time this weekend. This will also be the 4th time
F1 Wolf and the gang will be there. Here are some hints for those planning to travel there.


Shanghai Track, picture: Shanghai Circuit
The Shanghai circuit is one of the Tilkedromes featuring long straight ending with a tight corner – in Shanghai it is the Turn 14 and it is pretty much a U turn. Cars break here from over 300km/h to below 90km/h, and not always with success. The run off tarmac is large enough though… This straight and the corner used to provide some overtaking opportunities but with aero getting more and more car to car racing unfriendly, who knows what 2007 race will bring …
Last year the race was wet and cold and tyre choices and tyre performances made the difference. The weekend was dominated by Renaults. In the race however it was Michael Schumacher who got the tyres right and finally managed to win the Chinese GP on the 3rd attempt.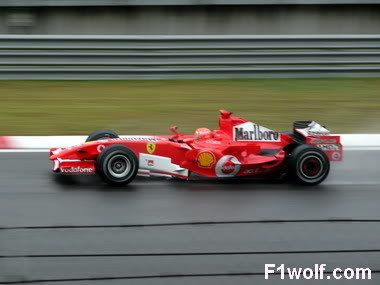 Michael Schumacher After His 2006 Win

In 2005 the race was won by Alonso (already a champion), sealing the constructors trophy for Renault. In 2004 the champagne went to Rubens Barrichello. Both 2004 and 2005 races saw some bizare Michael Schumacher performances – off the track excursions, crashing to Minardi on the way to the starting grid …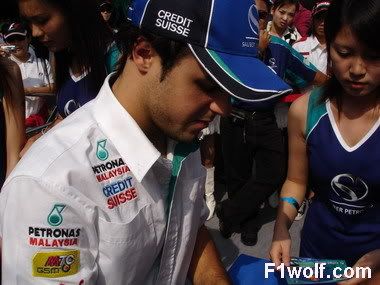 Felipe Massa before his last race for Sauber
Ferrari are considered to be favourites for this race. But there is so little between McLaren and Ferrari this season, that everything is possible. Following the results of Fuji race, the main focus will be on Hamilton. If he does not lose more than one point to Alonso or no more than 6 to Raikkonen he will be crowned champion.
The weather forecasts so far predict perhaps some storms on Saturday otherwise fine weather for the whole weekend. Looks like we may have a normal race for a change
Here are some photos from 2006:

Results of previous Chinese F1 GPs
2006
1. Michael Schumacher – Ferrari – 1:37:32.747
2. Fernando Alonso Renault +3.1 sec
3. Giancarlo Fisichella – Renault +44.1 sec
4. Jenson Button – Honda +72.0 sec
5. Pedro de la Rosa – McLaren-Mercedes +77.1 sec
6. Rubens Barrichello – Honda +79.1 sec
7. Nick Heidfeld – Sauber-BMW +91.9 sec
8. Mark Webber – Williams-Cosworth +103.5 sec
9. David Coulthard – RBR-Ferrari +103.7 sec
10. Vitantonio Liuzzi – STR-Cosworth +1 Lap
2005
1. Fernando Alonso – Renault – 1:39:53.618
2. Kimi Räikkönen – McLaren-Mercedes +4.0 sec
3. Ralf Schumacher – Toyota +25.3 sec
4. Giancarlo Fisichella – Renault +26.1 sec
5. Christian Klien – RBR-Cosworth +31.8 sec
6. Felipe Massa – Sauber-Petronas +36.4 sec
7. Mark Webber – Williams-BMW +36.8 sec
8. Jenson Button – BAR-Honda +41.2 sec
9. David Coulthard – RBR-Cosworth +44.2 sec
10. Jacques Villeneuve – Sauber-Petronas +59.9 sec
2004
1. Rubens Barrichello – Ferrari – 1:29:12.420
2. Jenson Button – BAR-Honda +1.0 sec
3. Kimi Räikkönen – McLaren-Mercedes +1.4 sec
4. Fernando Alonso – Renault +32.5 sec
5. Juan Pablo Montoya – Williams-BMW +45.1 sec
6. Takuma Sato – BAR-Honda +54.7 sec
7. Giancarlo Fisichella – Sauber-Petronas +65.4 sec
8. Felipe Massa – Sauber-Petronas +80.0 sec
9. David Coulthard – McLaren-Mercedes +80.6 sec
10. Mark Webber – Jaguar-Cosworth +1 Lap