So, the car on fire is Stefan Johansson, 1985 Ferrari. I receieved 10 correct replies (one by email). We found this nice young lady at the BWM Pit Lane Park at the Shanghai Grand Prix and asked her to put all the names to the cap and then pull some out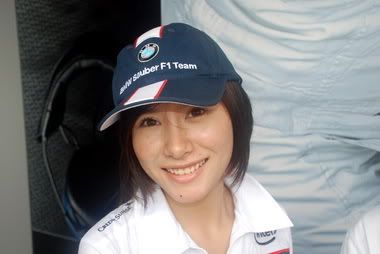 First came the 5 names for the large prints of race photos:
Fantoci, Ankit, John Zaniker, F1Golfer and Malt
Then the $100 Winner – Etienne Teo
Here is the video of the lucky draw. The quality is very disapointing, but we only found out after we shot the video, and by then we could not repeat the lucky draw
I wish to thank to Christine from Sidepodcast and Keith from F1Fanatic for their assistance with this contest.