As became the tradition, F1wolf and the gang will be shooting off to Shanghai in 2 weeks time for another weekend of racing and heavy partying. Some of you may be planning to go to Shanghai, here are our experiences from the past.
First and most important – you have to realize that Shanghai is China and China is, well, China. Expect unexpected.


Shanghai Track, picture: Shanghai Circuit

Unless you live nearby and travel by train or bus, your port of entry will be Pudong airport (or Hongqiao if you fly in domestically from some destinations). Pudong Airport is state of the art airport, with not so state of the art facilities. As in most Chinese airports you can expect extremely overpriced restaurants and coffee shops with average or way below average quality of food. Do not be surprised by $10 for cup of coffee. So my suggestion is, get out of the airport quick.
The airport is quite far away even from the Pudong area of Shanghai. Walking to your hotel is out of question. Unless somebody is picking you up, you have basically 2 options, taxi or train. Taxis are fine, as long as the driver understands where to take you. They speak and also read no English, so better have the directions handy written down in Chinese. If you stay on the Pudong side, the taxi ride would be between 25-45 minutes, depending on traffic. If you go to the Puxi side (the old Shanghai proper), expect anywhere between 45 to 90 minutes. The fare should be between $15 – $25, depending on your destination. The traffic can get heavy. If you never been to Shanghai before, better close your eyes for the ride, it is better for your health not to see the driving manners…
The other option is to take the super fast Maglev train.


Photo: Shanghai Maglev Transportation Development
You can experience around 400km/h ride, but at the end it would not help you much unless your hotel is somewhere nearby. The station is pretty much in the middle of nowhere and you still have to take taxi or another mode of transport to get where you need to get. So basically, you only take the train for the sake of taking the train.
Same as in most other F1 places, hotels are hard to book and come pricey on the F1 weekends, so not much surprise here. In general the hotels in Shanghai are fine, you can get decent deals in some of the local 3-4 star hotels. Many are good and the only problems you may have would be hotel staff not exactly compatible with your English.
OK, now get to track itself. It is located quite far away from the city.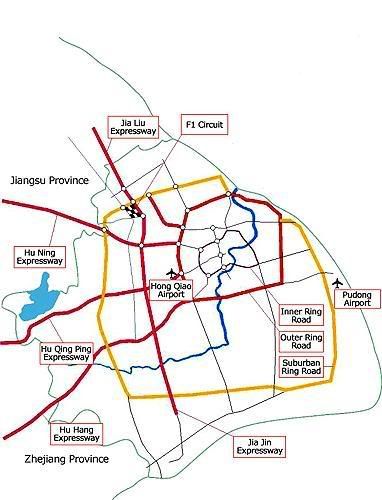 Shanghai Race Track Location, picture: Shanghai Circuit
Whatever transit times you may read in guides do not apply to the F1 race weekend. If you go to track on Friday morning for the free practice sessions, you will be fine 40-45 minutes and you are there. Saturday and Sunday it is totally different story, 2 hours in traffic can happen. So better allow yourself some room. When you go from the city to the track, you will not too many problems to get a taxi. But to get the cab from the track back to the city can be a major headache. First you have to walk quite a bit to get to a taxi stand. Once you get there, there are no taxis. So you can either patiently wait and hope for an hour or more, or you set for 1-2 km walk to the main road and hope to catch the ride there. You may still have to wait for quite some time, as you would not be the only one choosing this option. Alternative is asking your hotel to arrange a car for you.


When you arrive to the track what happens next depends on your luck and the mood of the important people in all kinds of uniforms. Sometime they allow the taxis to go quite close to the track, sometime they stop the taxi and you have to walk for half hour to get to your seats. It is quite frustrating seeing the grandstands, walking, walking, not getting any closer, and hearing the F1 cars driving around the track while you are still a kilometer away and walking …
The transportation arrangements are absolutely ridiculous and I can't understand we never hear Bernie complaining about that at all.
Around the track you will meet many people, some less some more annoying trying sell you everything, from binoculars that do not work, through race tickets (watch out for fakes), "Rolex" watches, "original" F1 merchandise. Namecards with "massage" places they give out free of charge. However, besides the street hawkers, there are several official sales tents in the area just outside the race track. They are worth to check out as many sell lots of sport and motor sport related stuff that is not available inside the track in the merchandise area. Last year sexy looking Spyker sport cars were on exhibit in of these booths.
Another annoying part, are the ever important people in uniforms insisting that you get inside through the gate that is right in front of the stands on your ticket. This would make sense, if the movement around the track facilities was restricted, but there is huge area that you can access no matter where your seats are. So for example, before going to your seats you want to go the merchandise selling area and therefore plan to enter the track through the gate near that area, bad luck. They will send you kilometer away to enter through the gate where your seats are, and then you can walk that kilometer back and buy something. Welcome to China ….
Now you are inside. The good news in Shanghai is, as China is important market for all the manufacturers involved in F1, the team stands and attractions are far better than for example Sepang. Use Friday to see and play and buy all, as Saturday and Sunday it gets packed.
I can't comment on all grandstands, as since the Chinese GP started we always took the seats between turns 15 and 16. The view is perfect, big screens nearby, can see the whole long straight, cars breaking from 320 to 90km/h, then changing gears up and down several times right in front of you just before turning to the start finish line. Both these turns are overtaking turns, same as the long straight is and overtaking straight. If anyone asks me, I would recommend this area. Best place to see some action.
Now the bad news, if you get hungry, you are screwed… There simple is not one single place on the entire track (except the Paddock Club probably) where you can get decent food. There are some refreshment kiosks selling some overpriced crap disguised as hot dogs or burgers. Alternatively, you could get some lunchbox if you do not mind that you can't identify anything inside that box other than cold dry rice. Again, why Bernie does not force the organizers to do something about that? So, stuff yourself at your breakfast buffet before you go to track, the next food you will see will be dinner… You will have to survive the day at track on beer.
Surviving on beer however has some side effects. So if you wonder, whether you will be able to cope with them at Shanghai Circuit, yes, you will. Restrooms are OK and plentiful, designed to handle more squatting than sitting people though…
In 2005, they had the autograph sessions organized with most of the teams. Unfortunately, this was not repeated in 2006… It was pretty mad at times, but it was fun. Bring it back !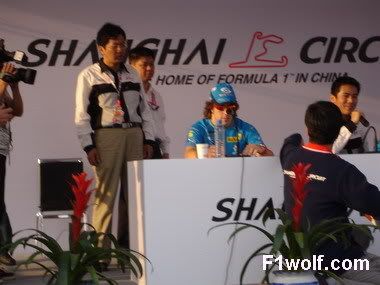 Photo: F1wolf.com

Photo: F1wolf.com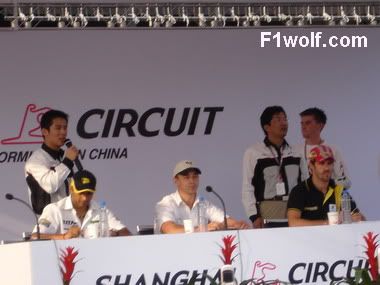 Photo: F1wolf.com
Out of the 3 previous Shanghai races, 1 was sunny and very hot, 1 was sunny and warm. The last one was rainy and cooold. Anything can happen. The early October date is a time when seasons change in this part of the world, but this year, as the race is on October 7, we should still be on the warmer side.
Besides all this pain in the butt, it is still great place to go for the race. If you successfully make it back from track to city, the party awaits. The city is full of great bars and restaurants. The biggest problem of all is to wake up in the morning and make it back to the track.
If you wander around the city you may find lots of F1 related activities. Two years ago, we walked into lit up hangar in the middle of a park. Inside was the BAR Honda car in parts suspended from the roof, and Nick Fry and Anthony Davidson around, very accessible and friendly…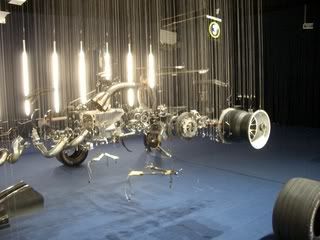 Photo: J.Kuzma for F1wolf.com

Photo: J.Kuzma for F1wolf.com
You never know to whom you bump around the town. If you want to be sure to bump into somebody, then the Marriot Hotel near the Peoples Square is the place. Some teams stay there, and the Amber Lounge Party is held in that hotel. Even if you do not have a pass for the party, you can still hover around the lift lobby or around the red carpet and do some F1 star spotting.
If you are leaving Shanghai on Monday morning by plane, the airport is a great place for the F1 people spotting. Drivers and team personnel walk all around the place. Two years ago we were queuing up for immigration next to certain Finish McLaren driver. He did not mind signing a Departure Card for us.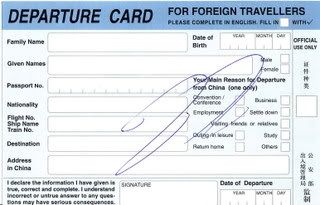 All the above is based on my personal experience from past 3 Chinese Grands Prix. It is very well possible that some improvements may be awaiting for the 2007 visitors. They can start with serving beer other than Fosters….
The race and track will be covered in the Race Preview before the Chinese GP.