The news are out about the 80 million Euro takeover of the troubled Spyker F1 team by Michiel Mol and Vijay Mallya. This may and probably will mean yet another name change for the former Jordan team.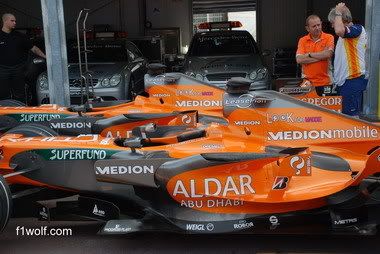 Photo: f1wolf.com

Vijay Mallya, number 664 on 2007 Fortunes World's Billionaires list, is not a F1 rookie. His Kingfisher logo is already on the Toyota cars.


Photo: f1wolf.com
He has also been a regular visitor to Monaco GP. The party he held on board his 95 metres yacht was the place to be during 2007 Monaco GP.


Photo: f1wolf.com
Would be fun having a Kingfisher F1 team on the grid as result of this take over :-).