When talking about the teams in history of Formula 1, the name Kuzma does not get mentioned too often. But yet, it has more race wins then Minardi or Arrows and the driver Troy Ruttman shares his position in the race win table with drivers like Jarno Trulli, Jenson Button, Jean Alesi or Olivier Panis.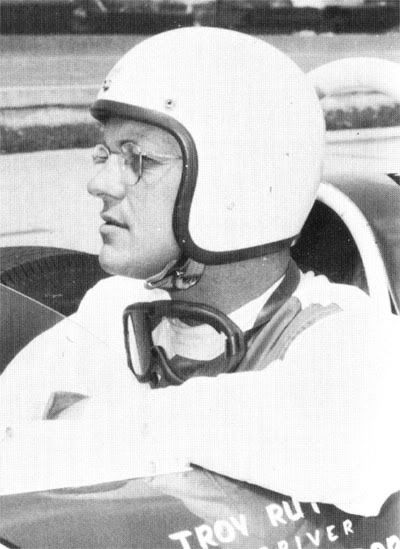 Troy Ruttman (Photo: Indianapolis Motor Speedway)

In the early days of Formula 1 the Indianapolis 500 race was included in the World Championship. European drivers usually did not take part in that race. Also the drivers and teams that raced at Indy did not take part in the European F1 races. The race was therefore pretty much irrelevant to the F1 World Championship. But it was still tough race.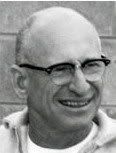 Eddie Kuzma
The Eddie Kuzma built chassis were fitted with Offenhauser engine, also known as Offy (same engine as the majority of other teams used). The Offenhauser engine dominated American open wheel racing from 1934 through 1960, winning the Indianapolis 500 24 times. Between 1950 and 1960, Offenhauser powered cars won all the Indy500 races and took all podiums. At the same time recording 10 of 11 pole positions. Such was the dominance of this power plant.


J.C. Agajanian
In 1952 J.C. Agajanian entered the race with Troy Ruttman behind the wheel of his Kuzma-Offenhauser car. Indy500 race remained on the World Championship calendar and this time Ferrari decided to send Alberto Ascari to race in the American classic race. Ascari only managed to qualify 19th in his not so competitive car. Ascari made it up to 8th place but had to retire after 40 laps after a wheel failure. When the race leader Bill Vukovich crashed out 9 laps from finish, Troy Ruttman took over the lead and went on to win the race. This was the only Indy500 race win for Kuzma-Offenhauser. As the race was a part of the Formula 1 Championship, Troy Ruttman and Kuzma-Offenhauser do have their places in the F1 history books as race winners.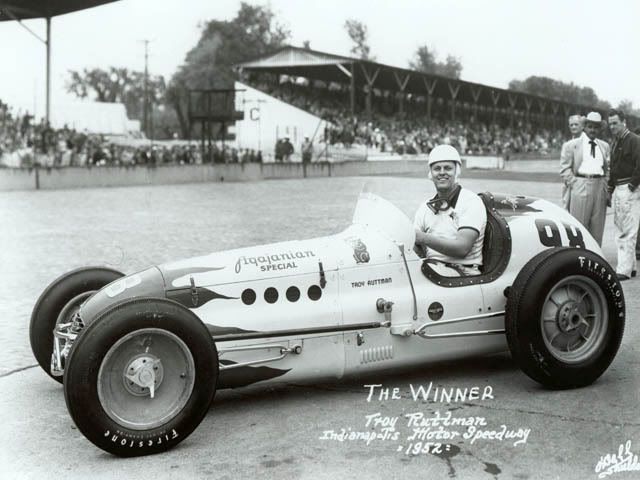 Troy Ruttman, Indy500 1952 Winner (Photo: Indianapolis Motor Speedway)
Eddie Kuzma built one more winning chassis for Indy500 race – for Mario Andretti in 1969.
Overview of Kuzma-Offenhauser cars results in Indy500 races (included in F1 Championship):
1951 Indianapolis 500
Retired – Walt Faulkner – Kuzma-Offenhauser – Engine 14
1952 Indianapolis 500
1) Troy Ruttman – Kuzma-Offenhauser – 3:52'41.88
1953 Indianapolis 500
9) Tony Bettenhausen – Kuzma-Offenhauser – Accident
13) Manny Ayulo – Kuzma-Offenhauser – Engine
Retired – Bob Sweikert – Kuzma-Offenhauser – Suspension
Retired – Pat Flaherty – Kuzma-Offenhauser – Accident
Retired – Chuck Stevenson – Kuzma-Offenhauser – Fuel leak
1954 Indianapolis 500
2) Jimmy Bryan – Kuzma-Offenhauser + 1'09.95
12) Chuck Stevenson – Kuzma-Offenhauser + 1 Lap
13) Manny Ayulo – Kuzma-Offenhauser + 3 Laps
1955 Indianapolis 500
4) Johnny Thomson – Kuzma-Offenhauser + 3'38.91
11) Duane Carter – Kuzma-Offenhauser + 3 Laps
Retired – Jimmy Bryan – Kuzma-Offenhauser – Fuel pump
Retired – Rodger Ward – Kuzma-Offenhauser – Accident
1956 Indianapolis 500
6) Bob Sweikert – Kuzma-Offenhauser + 5'35.05
11) Gene Hartley – Kuzma-Offenhauser + 4 Laps
15) Eddie Johnson – Kuzma-Offenhauser + 5 Laps
16) Billy Garrett – Kuzma-Offenhauser + 6 Laps
19) Jimmy Bryan – Kuzma-Offenhauser + 15 Laps
Retired – Johnny Thomson – Kuzma-Offenhauser – Spun off
1957 Indianapolis 500
3) Jimmy Bryan – Kuzma-Offenhauser + 2'13.97
12) Johnny Thomson – Kuzma-Offenhauser + 1 Lap
14) Chuck Weyant – Kuzma-Offenhauser + 4 Laps
Retired – Eddie Sachs – Kuzma-Offenhauser – Fuel leak
1958 Indianapolis 500
13) Johnnie Tolan – Kuzma-Offenhauser + 9'52.24
Retired – Dempsey Wilson – Kuzma-Offenhauser – Fire
Retired – J Foyt – Kuzma-Offenhauser – Spun off
Retired – Eddie Sachs – Kuzma-Offenhauser – Transmission
Retired – Art Bisch – Kuzma-Offenhauser – Accident
1959 Indianapolis 500
10) A J Foyt – Kuzma-Offenhauser + 4'14.48
11) Gene Hartley – Kuzma-Offenhauser + 5'42.48
Retired – Eddie Sachs – Kuzma-Offenhauser – Spun Off
Retired – Al Keller – Kuzma-Offenhauser – Engine
Retired – Bill Cheesbourg – Kuzma-Offenhauser – Magneto
1960 Indianapolis 500
12) Duane Carter – Kuzma-Offenhauser + 11'17.20
13) Bill Homeier – Kuzma-Offenhauser + 12'10.71