This Sunday 34 years ago Canadian GP was held in Mosport Park. This race is a proof, that there is a long history of mess ups in Formula 1.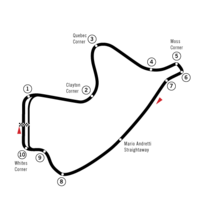 The rainy and foggy weather on the race day was not exactly race worthy, however after an hour's delay the race eventually went ahead. Ronnie Peterson (Lotus) lead the away before spinning out on lap 17. Then Niki Lauda (BRM) built a 30-second lead from Emerson Fittipaldi (Lotus). Then the mess started. After 20 laps, the track started to dry and cars began changing tyres. 54 tyre stops were counted, and the lead changed from Stewart (Tyrell) to Beltoise (BRM) to Oliver (Shadow).

On lap 24 almost everybdy qeued up in the pitlane and there were not too many people who had idea about the actual track positions. Then on lap 33 to mess up things even further
Jody Scheckter (McLaren) collided with Fancois Cevert (Tyrrell). This brought out the safety car for the first time in F1 history, but it was not exactly the best debut.
The safety car driver had been focusing on the leader at the time Stewart. But he went into the pits just as the safety car came out. His crew however messed up his pit stop and he got stuck there. Safety car waited and let several cars to pass by. At the end they picked up Howden Ganley (Williams) as a leader. They somehow did not realize that few other drivers they had waved through (among them Beltoise, Oliver and Peter Revson)had gained a whole lap while Fittipaldi was held up. Peter Revson (McLaren) believed he was a lap down at that time. Beltoise decided to take advantage of his gain and pitted again. It looked like Oliver was the race leader after the safety car mess up. Beltoise however took the position from him after the restart, Peter Revson also got ahead of Oliver.Then Fittipaldi began charging ahead and overtook both Oliver abd Beltoise. He finished the race ahead of them thinking and believing he is the winner. Nobody realized that Peter Revson had been leading the race for laps … Five hours later the official results were announced and Revson declared the winner. This was his 2nd win of the season after winning British GP. Peter Revson died on 1974 after crashin during practice for South African GP.
1)Peter Revson – McLaren – 1:59:04.083
2)Emerson Fittipaldi – Lotus
3)Jackie Oliver – Shadow
4)Jean-Pierre Beltoise – BRM
5)Jackie Stewart – Tyrrell
6)Howden Ganley – Williams
7)James Hunt – March
8)Carlos Reutemann – Brabham
9)Mike Hailwood – Surtees
10)Chris Amon – Tyrrell
11)Wilson Fittipaldi – Brabham
12)Rolf Stommelen – Brabham
13)Denny Hulme – McLaren
14)Tim Schenken – Williams
15)Arturo Merzario – Ferrari
16)Graham Hill – Shadow
17)George Follmer – Shadow
18)Carlos Pace – Surtees
19)Jean-Pierre Jarier – March
20)Rikky von Opel – Ensign
21)Niki Lauda – BRM
22)Jody Scheckter – McLaren
23)Francois Cevert – Tyrrell
24)Mike Beuttler – March
25)Ronnie Peterson – Lotus
26)Peter Gethin – BRM