The World Motor Sport Council (WMSC) published the reasons for the McLaren's punishment. First the summary of the punishment:
– McLaren had been docked all their 2007 Constructors' Championship points
– McLaren team was also handed an unprecedented $100m fine (m stands for million here, $ stands for US dollar)
The WMSC decision in full is a long reading (click) and takes some time to digest. Read it first, and then feel free to compare your thoughts with mine… I wish to make it clear here, that I am not a McLaren hater or a Ferrari fanatical supporter. I supported BAR and Honda, and as they are out of contention this year I am a neutral fan enjoying the 4 way title battle…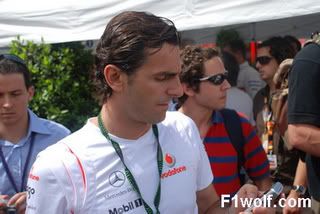 I begin with question "Who knew what?". Well, we still do not know the answer. But we know that much more people were involved than McLaren dared to admit. The major question is – Did Dennis or Whitmarsh know?

Dennis went all the way to protect his untarnished image. He went as far as to himself alert FIA of the new evidence:
"Once I became aware that new evidence might exist, which I did on the morning of the Hungarian Grand Prix (August 5), I immediately phoned the FIA to keep them informed," he said in a statement at the Belgian Grand Prix.
Clever, but it still does not convince me that he had no idea… Especially when you consider the timing – the morning of the Hungarian Grand Prix. The passions and emotions were flying high, with the team stripped of their constructors point for the race and Alonso relegated down the grid after deliberately blocking Hamilton. It may well be that it was just a matter of not whether FIA will be tipped off, but who of the angry McLaren people will do it first.
The WMSC findings implicate Alonso and de la Rosa and there is simply no way for anybody to deny now, that many people in the team had to know. At least two drivers were in the possession of Ferrari data, spoke of them openly, they had to communicate with their engineers. I simply see no way that at least some rumour about part of the team using illegal data did not reach Ron Dennis …
The transcripts of the email communication between de la Rosa and Alonso are quite unbelievable. Few days back when almost identical texts were published by Italian journalist (who later admitted he made them up) I did not even comment on that. I was sure that this can't be real. And it pretty much was…
It is now obvious, this is not only a question of the 780 pages dossier of Ferrari info. Stepney supplied Coughlan, de la Rosa and Alonso (oh, now I extended to duo into a quartet) with information related to actual race set ups of Ferrari… Not a case of a pile of "no one looked at" papers landing accidentally in hands of 1 McLaren employee. This is a case of continuous stream of confidential information from Ferrari to the McLaren staff AND drivers. Some parts of the evidence (the communication between de la Rosa and Alonso) even make me feel like Alonso was actually keen on getting more info or at least extremely keen of making use of the info already in their hands…
3.13 Mr de la Rosa's e-mail to Mr. Alonso on 25 March 2007 at 01.43 identified a gas that Ferrari uses to inflate its tyres to reduce the internal temperature and blistering. The e-mail concludes with a statement (in relation to the gas) that "we'll have to try it, it's easy!".

3.14 Mr Alonso replied at 12.31 that it is "very important" that McLaren test the gas that Ferrari uses in its tyres as "they have something different from the rest", and "not only this year. there is something else and this may be the key; let's hope we can test it during this test, and that we can make it a priority!".

3.15 Mr. de la Rosa replied on 25 March 2007 13.02 stating the following: I agree 100% that we must test the [tyre gas] thing very soon.
They even talked about making it priority during their test … How would it be possible for the team, the engineers, not to be aware of this …
Then comes the evidence supplied by Mr. Lowe, McLaren's Engineering Director. He said "the dossier of Ferrari information found in Coughlan's possession did not contain information of particular use or interest to McLaren on the basis that the McLaren car was significantly different to the Ferrari car". Mr. Lowe claims he made this assessment after reading the index of the dossier … Sorry, I do not buy this… What I make of this is, that Mr. Lowe was well aware of the information in McLaren's possession. And Mr. Lowe is not a nobody in McLaren's hierarchy.
Now the verdict is out. The drivers were promised immunity. And after reading what information they provided in exchange for the immunity, I am not surprised they did it, and did it so fast. The truth would sooner or later come out, they had no other way, unless they were ready to say bye to their Super License. At least as far as de la Rosa and Alonso are concerned.
Hamilton responded that he had no information responsive to the FIA's request. If this is true, that means that he was totally isolated from whatever Alonso was doing with his car set up. Is that believable? I am not that sure. These 2 guys do not like each other. But that is now, all these spy things however go way back to March, when the things between Alonso and Hamilton were not sour yet … Hmmm… I remember it was after the cracks in Alo-Ham relations began to appear, when Alonso stopped sharing set up info with Hamilton. (Remember Silverstone, when Hamilton did his own set up and got it wrong?). When was Silverstone? July. When did all the damning mail exchange happen? March …
Now we have a situation, where McLaren is out of Constructors Championship, effectively meaning they will get no prize money. The estimate of their 2007 take (assuming they would have won the title) is $68.9 according to a report by Formula Money. The headline making $100 million means effectively loss of the prize money plus some $30 million fine. This sure is not going to kill off a company with an annual turnover of $400-$500 million, but it sure will compromise their spending power and affect their 2008 development. Moreover, their 2008 car will be under close scrutiny by FIA to make sure McLaren makes no advantage of the info acquired from Ferrari. Their life in 2008 will not be easy. There will also be lots of headache concerning their race and test drivers line up for 2008 (I can't see how can Alonso and da la Rosa remain in the team). Then there is question of Prodrive … The money from that deal would sure come handy now, but will the deal go through now? Will they be allowed to use the tarnished 2007 McLaren chassis?
The irony of this all is, that a driver, that now openly admitted to have benefited from the Ferrari information, is still well in contention for the Driver's title. Some people call it a farce, I call it life. But, the matters still are in Ron Dennis' hands…
If Ron Dennis really is as innocent as he claims to be, there is one thing he should do right away. Fire Alonso, de la Rosa and anybody else known to be involved in this scandal immediately. These people clearly damaged the reputation of McLaren and the reputation of Ron Dennis. This way some justice can be done, this way the team could get behind innocent (?) Hamilton and pretty much seal the Driver's trophy.
I only see one reason for Dennis not to do this… Himself being involved or aware of all this, and by dismissing Alonso, de la Rosa, Lowe, Nealy etc risking that these people would talk …
So what I think of the crime and punishment – The punishment fully justifies the crime (although some people who should have been punished were not, as a part of the immunity deal).
Should McLaren appeal – Frankly, I do not see much ground for an appeal. If they do, they only risk punishment even harsher than the one they received on Thursday the 13th.