Before we head for 3 weeks summer break we still have a goulash party to attend in Hungary.
Formula 1 arrived to Hungary in 1986 as a first and only race held behind the former Iron Curtain. This year will be 22nd Fomula 1 race in Hungary and amazingly I have never heard this usually processional race to be under any danger from Bernie …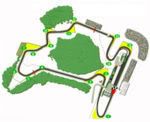 The track sits on the top of the countryside just outside of Budapest. Combine this with the middle of the summer in Central Europe and you get one hot and dusty race on otherwise not very used track. There has never been a wet race here until 2006…

The drivers have to negotiate 70 laps on tight and twisty track. There are basically no overtaking opportunities here and only one sort of long (or longer) straight. This track is very demanding on the machinery with lots of gear changes and breaking. The dusty nature of the track can punish trips outside of the racing line with trips to the barriers. The required set up is low grip and high downforce.. Good grid positions and clever pit stop strategy is important here, so watch out for qualifying. Button won here last year from P14 but frankly that would be impossible without the rain mixing up the order. The Hungaroring is the second slowest track on the calendar, only Monaco is slower.
Here is the video preview from Sidepodcast.tv
The location of the track, just outside the Hungarian capital provides lots of fun off the track too. One example is Red Bull taking on the Budapest' streets and airspace on Thursday.
Here are video highlights of 2006 rainy race:

And here the past 10 years Hungarian GP result gallery:
2006
1) Jenson Button – Honda – 1:52:20.941
2) Pedro de la Rosa – McLaren-Mercedes +30.8
3) Nick Heidfeld – Sauber-BMW +43.8
4) Rubens Barrichello – Honda +45.2
5) David Coulthard – RBR-Ferrari +1 Lap
6) Ralf Schumacher – Toyota +1 Lap
7) Felipe Massa – Ferrari +1 Lap
8)Michael Schumacher – Ferrari – Track rod
9) Tiago Monteiro – MF1-Toyota +3 Laps
10) Christijan Albers – MF1-Toyota +3 Laps
2005
1) Kimi Räikkönen – McLaren-Mercedes – 1:37:25.552
2) Michael Schumacher – Ferrari +35.5
3) Ralf Schumacher – Toyota +36.1
4) Jarno Trulli – Toyota +54.2
5) Jenson Button – BAR-Honda +58.8
6) Nick Heidfeld – Williams-BMW +68.3
7) Mark Webber – Williams-BMW +1 Lap
8)Takuma Sato – BAR-Honda +1 Lap
9) Giancarlo Fisichella – Renault +1 Lap
10) Rubens Barrichello – Ferrari +1 Lap
2004
1) Michael Schumacher – Ferrari – 1:35:26.131
2) Rubens Barrichello – Ferrari +4.6
3) Fernando Alonso – Renault +44.5
4) Juan Pablo Montoya – Williams-BMW +62.6
5) Jenson Button – BAR-Honda +67.4
6) Takuma Sato – BAR-Honda +1 Lap
7) Antonio Pizzonia – Williams-BMW +1 Lap
8)Giancarlo Fisichella – Sauber-Petronas +1 Lap
9) David Coulthard – McLaren-Mercedes +1 Lap
10) Mark Webber – Jaguar-Cosworth +1 Lap
2003
1) Fernando Alonso – Renault – 1:39:01.460
2) Kimi Räikkönen – McLaren-Mercedes +16.7
3) Juan Pablo Montoya – Williams-BMW +34.5
4) Ralf Schumacher – Williams-BMW +35.6
5) David Coulthard – McLaren-Mercedes +56.5
6) Mark Webber – Jaguar-Cosworth +72.6
7) Jarno Trulli – Renault +1 Lap
8)Michael Schumacher – Ferrari +1 Lap
9) Nick Heidfeld – Sauber-Petronas +1 Lap
10) Jenson Button – BAR-Honda +1 Lap
2002
1) Rubens Barrichello – Ferrari – 1:41'49.001
2) Michael Schumacher – Ferrari +0.434
3) Ralf Schumacher – Williams-BMW +13.356
4) Kimi Räikkönen – McLaren-Mercedes +29.479
5) David Coulthard – McLaren-Mercedes +37.800
6) Giancarlo Fisichella – Jordan-Honda +1'08.804
7) Felipe Massa – Sauber-Petronas +1'13.612
8)Jarno Trulli – Renault +1 Lap
9) Nick Heidfeld – Sauber-Petronas +1 Lap
10) Takuma Sato – Jordan-Honda +1 Lap
2001
1) Michael Schumacher – Ferrari – 1:41'49.675
2) Rubens Barrichello – Ferrari +3.363
3) David Coulthard – McLaren-Mercedes +3.940
4) Ralf Schumacher – Williams-BMW +49.687
5) Mika Hakkinen – McLaren-Mercedes +1'10.293
6) Nick Heidfeld – Sauber-Petronas +1 Lap
7) Kimi Räikkönen – Sauber-Petronas +1 Lap
8)Juan Pablo Montoya – Williams-BMW +1 Lap
9) Jacques Villeneuve – BAR-Honda +2 Laps
10) Jean Alesi – Prost-Acer +2 Laps
2000
1) Mika Hakkinen – McLaren-Mercedes – 1:45'33.869
2) Michael Schumacher – Ferrari +7.917
3) David Coulthard – McLaren-Mercedes +8.455
4) Rubens Barrichello – Ferrari +44.157
5) Ralf Schumacher – Williams-BMW +50.437
6) Heinz-Harald Frentzen – Jordan-Mugen-Honda +1'08.099
7) Jarno Trulli – Jordan-Mugen-Honda +1 Lap
8)Eddie Irvine – Jaguar-Cosworth +1 Lap
9) Jenson Button – Williams-BMW +1 Lap
10) Mika Salo – Sauber-Petronas +1 Lap
1999
1) Mika Hakkinen – McLaren-Mercedes – 1:46'23.536
2) David Coulthard – McLaren-Mercedes +9.706
3) Eddie Irvine – Ferrari +27.228
4) Heinz-Harald Frentzen – Jordan-Mugen-Honda +31.815
5) Rubens Barrichello – Stewart-Ford +43.808
6) Damon Hill – Jordan-Mugen-Honda +55.726
7) Alexander Wurz – Benetton-Playlife +1'01.012
8)Jarno Trulli – Prost-Peugeot +1 Lap
9) Ralf Schumacher – Williams-Supertec +1 Lap
10) Olivier Panis – Prost-Peugeot +1 Lap
1998
1) Michael Schumacher – Ferrari – 1:45'25.550
2) David Coulthard – McLaren-Mercedes +9.433
3) Jacques Villeneuve – Williams-Mecachrome +44.444
4) Damon Hill – Jordan-Mugen-Honda +55.076
5) Heinz-Harald Frentzen – Williams-Mecachrome +56.510
6) Mika Hakkinen – McLaren-Mercedes +1 Lap
7) Jean Alesi – Sauber-Petronas +1 Lap
8)Giancarlo Fisichella – Benetton-Playlife +1 Lap
9) Ralf Schumacher – Jordan-Mugen-Honda +1 Lap
10) Johnny Herbert – Sauber-Petronas +1 Lap
1997
1) Jacques Villeneuve – Williams-Renault – 1:45'47.149
2) Damon Hill – Arrows-Yamaha +9.079
3) Johnny Herbert – Sauber-Petronas +20.445
4) Michael Schumacher – Ferrari +30.501
5) Ralf Schumacher – Jordan-Peugeot +30.715
6) Shinji Nakano – Prost-Mugen-Honda +41.512
7) Jarno Trulli – Prost-Mugen-Honda +1'15.552
8)Gerhard Berger – Benetton-Renault +1'16.409
9) Eddie Irvine – Ferrari +1 Lap
10) Ukyo Katayama – Minardi-Hart +1 Lap