The events of last weekend triggered a fresh wave of driver market speculations. It is amazing to see what effect one unhappy driver can make. I would not dismiss these rumours lightly. Not even 2 weeks ago I wrote about some possible driver movements, 3 of them materialized already. So, what is on cards now?

It looks more and more likely that Alonso will leave McLaren at the end of the season. Allegedly he's been told he can go because McLaren is so fed up with him. Who would fill his seat? One alternative is Heidfeld, another more likely I would say would be Nico Rosberg.
Where would Alonso go? One option would be nowhere for some time. If Dennis allows him to go before his contract is up, it does not mean that he will also be allowed to join another team right away. But I believe that Dennis is under so much strain right now, he would not care where he goes, as long as he goes… Some sources close to Renault are rumoured to claim that Alonso is desperate to return to his former team. This may be true. He sure still keeps many friends in Renault (I saw in Monaco pitlane Alonso riding scooter and giving lift to Paddock to a guy from Renault). He would be returning home…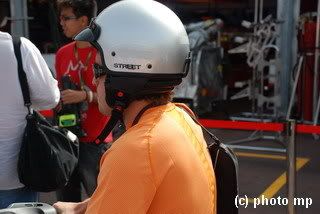 The only other option I see would be BMW. Ferrari, as long as Kimi is there is out of question for Alonso… He would not want to escape Hamilton and run into Kimi… Other teams are not championship contenders, I do not see him doing "Damon Hill" or "Jacques Villeneuve" kind of move.
There are already signs that some people take the possibility of Alonso back to Renault seriously. Nelson Piquet Jr. is allegedly checking the possibilities with Williams. If Alonso went back, Piquet Jr. would have no chance of race seat in Renault next season for sure. This opens interesting circle – Alonso to Renault, Piquet Jr. to Williams, Rosberg to McLaren (and Fisi to?).
If he goes to BMW, that could end up as a straight swap with Heidfeld. Heidfeld lost out the McLaren seat some years back to Kimi, he would not mind to get there now. But somehow I do not see this happening.
Renault and BMW are yet to confirm their 2008 line up, so all is open there.
The next 2 teams where things may happen are Spyker and Super Aguri. Sutil may hope for better drive and I am sure his agents do not waste any time now… Both seats in Spyker may be available and who can show them the money will get them. The same may happen in Super Aguri. With their major sponsor not paying up they will be looking for additional source of cash. Their 4 points in constructors championship will bring them some dollars, but that may not be enough. I would say Sato's drive is safe, but the second seat may be auctioned to highest bidder.
There will sure be changes for 2008, there may still be some on cards in 2007 too.
Related Links:
Driver Rumours Gather Speed
2008 Drivers Line Up