McLaren chief designer allegedly had personally received a package of technical information from a Ferrari employee at the end of April
First there was some mysterious complaint from Ferrari against Nigel Stepney.
It resulted into investigation by prosecutors office in Modena, Italy. They or Ferrari probably managed to dig out something and Ferrari fired Stepney this week.Now there is also high ranked McLaren staff Mike Coughlan implicated. His house was searched, some documents belonging to Ferrari allegedly have been found. McLaren suspened him swiftly. Ferrari statement from Tuesday says:"Ferrari announces it has recently presented a case against Nigel Stepney and an engineer from the Vodafone McLaren Mercedes team with the Modena Tribunal, concerning the theft of technical information.

"Furthermore, legal action has been instigated in England and a search warrant has been issued concerning the engineer. This produced a positive outcome.
"Ferrari reserves the right to consider all implications, be they criminal, civil or of any other nature, according to the applicable laws."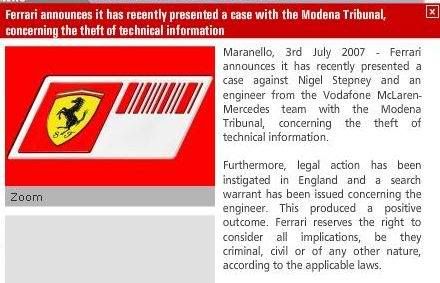 Nigel Stepney is one of the Ferrari dream team that included Ross Brawn, Jean Todt and Michael Schumacher. It is a public knowledge that he has been looking for a new team, with Honda being mentioned often. Mike Coughlan on the other hand is (or was) current McLaren's chief designer. It is pretty clear that he would have some use for interesting documentation from Ferrari.
Up till now Stepney insists he is innocent, will see what he comes up with once he returns from his Philippines holidays.
This development will for sure raise questions and generate lots of discussion. Remember how ahead Ferraris were early on in the season, and how quickly McLarens managed to catch up … The quick action McLaren took in suspending Coughlan is a sign that the team wants to distance itself from any design theft. But what use would a chief designer have for documentation from competing team? Would he use to improve his roadcar? Did McLaren really have no idea what was going on or are they now simply throwing a man overboard.


Links:
Speed TV
ITV
GrandPrix.com
McLaren
Ferrari(News Section)