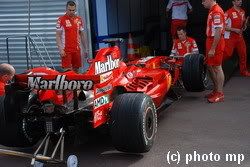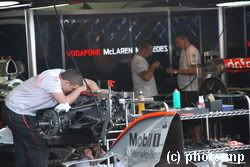 The FIA World Motor Sports Council decided not to penalize McLaren.
The full FIA statement read: "An extraordinary meeting of the World Motor Sport Council was held in Paris on 26 July, 2007. The following decision was taken:"The WMSC is satisfied that Vodafone McLaren Mercedes was in possession of confidential Ferrari information and is therefore in breach of article 151c of the International Sporting Code. However, there is insufficient evidence that this information was used in such a way as to interfere improperly with the FIA Formula One World Championship. We therefore impose no penalty.

"But if it is found in the future that the Ferrari information has been used to the detriment of the championship, we reserve the right to invite Vodafone McLaren Mercedes back in front of the WMSC where it will face the possibility of exclusion from not only the 2007 championship but also the 2008 championship.

"The WMSC will also invite Mr Stepney and Mr Coughlan to show reason why they should not be banned from international motor sport for a lengthy period and the WMSC has delegated authority to deal with this matter to the legal department of the FIA."
What does this mean?

1) Most important implication is that the fight for both championship will be decided on the track.2) McLaren got serious warning, that should some new information implicating them further emerge, they may be in serious trouble.
3) Ferrari will not be happy.
4) Evidence was heard, McLaren was cleared, but both Coughlan and Stepney were invited by the World Motor Sports council to defend themselves. This may indicate that Stepney may not be as innocent as he tries to show. These 2 guys may be in for some trouble.
Has McLaren gotten off lightly? Probably yes. The FIA however showed some caution, did not make any rush decisions and still left the door open for further action. This story is not over yet, but at least for time being we can focus on racing.