This weekend a year ago we saw the last of Jacques Villeneuve in Formula 1. The German Grand Prix in Hockenheim on July 30, 2006 was his last race. He crashed out and it did not take long for BMW Sauber to sack him. It did not as much of a surprise as BMW seemed to be looking for a way to get rid of him since the moment they took over Sauber operation. He was not the most loved guy on the grid but he was a world champion and he made his mark on F1. His F1 career is well documented, so all I do here is very brief recap.

He started his F1 career with Williams in 1996. He took a pole position in his first race and won only his 4th race in F1. This was even more impressive that Hamilton's entry this year. The next year, 1997, he won the title. The title was decided at last race at Jerez where Schumacher (in)famously tried to take him out of the race.

video Villeneuve vs Schumacher, Jerez 1997
In 1999 Villeneuve got involved in the new BAR team. The team however never achieved much during Villeneuve years there. Then in 2003 he was outpaced by Button. BAR sacked him and replaced with Sato.
Towards the end 2004 season he was brought to Renault for last 3 races as a replacement for sacked Trulli. This was pretty much a disaster. However he was signed for 2005 by Sauber team. It took him some time to find his speed but at the second half of the season he and Massa were pretty much on similar pace. Then 2006 and BMW came and that is where his F1 story ended.
There was some talk about him joining Nascar, but didi not happen so far, Instead he joined Peugeot Sport and was one of their drivers at the 24 hours LeMans in 2007. The car retired with only about 100 minutes to go.
Besides driving Villeneuve is known to be a keen musician. He released his album Private Paradise on February 19 this year in Montreal.
I was kind of lucky to be at the Hockenheim race with the seat at the final corner, so here are some pictures of Villeneuve's last F1 race.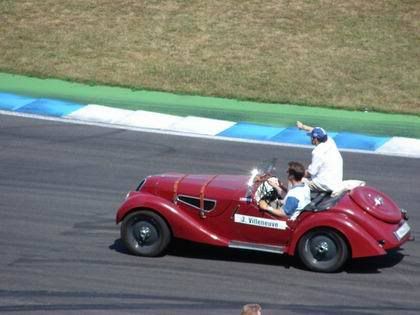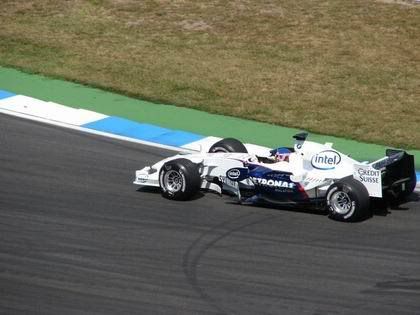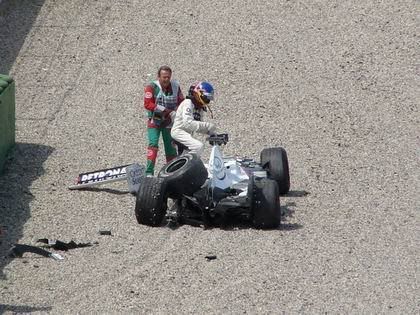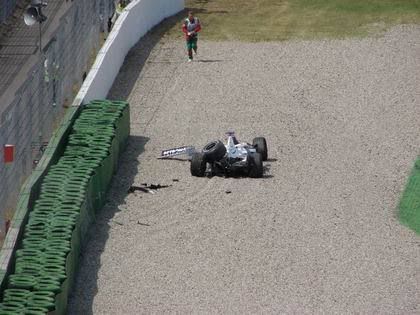 More Hockenheim photos:
Slidesow
Downloads