I am also a bit confused about the rule book.
First of all, cars are not allowed to be helped back on track, unless they are in dangerous position. Hamilton's McLaren was nicely parked in the gravel by the wall, not in dangerous position at all. He was lifted by a crane back on track, allowed to join the restart and unlap himself. The commentator on Star TV explained, that Hamilton crashed out after the race was red flagged… Really?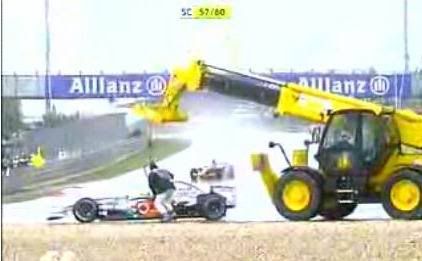 That is not the case, as can be seen from this screen shot. At the moment he was being lifted off the gravel, we had yellow flag safety car situation only, no red flags … Why was he allowed to rejoin the race?Also, there used to be 2 hour rule. Whatever happened to that?
1) F. Alonso – McLaren – 2:06:26.358
The race was over 6 minutes longer than it should have been.
Then, the infamous blue flags… Once the race stewards decided that it is OK for a car to be helped back on track with crane, they should also allow it to race. Hamilton was shown blue flags to let Massa get by, when Massa was nowhere near him…
If Hamilton did not want to get penalized for ignoring the flags, he had to almost stop the car on the track …