Friday evening after the practice I was sitting on the Ekspres riding from KL airport to the city. On the small TV screen I could see Alonso saying something about McLaren having no chance to beat Ferrari in Sepang… Well, sometime even world champion can be wrong.
Ferrari had Massa on pole, Kimi on P3 and according to the popular belief the fastest cars on the grid. How could they not win the race?

Well, for one, despite whatever Jean Todt tried to make us believe, there definitely was something wrong with Kimi's car. Otherwise why would Kimi say after race "This weekend we had to make some compromises on the car and that meant we were unable to exploit its full potential. Today we lacked a bit of speed when up against our main rivals." At the end, Todt himself confirmed that Kimi's car was tuned down a bit.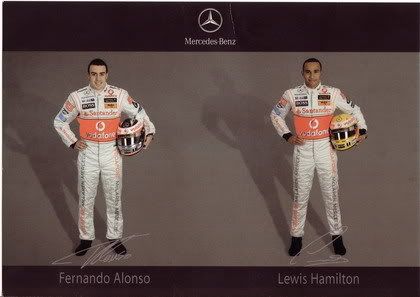 However, the main difference was Lewis Hamilton. I dare to say that Hamilton won the race for Alonso. His second race and again this awesome start. In Melbourne his victim was Alonso, in Sepang both Ferraris. The first few laps both Massa and Kimi had the speed to get ahead of Hamilton but the rookie fended them off. Then Massa went to check whether the grass is really green, and Kimi took over the chase. However unlike Massa Kimi did not even come close to challenging Hamilton. So with both Ferraris safely bottled up behind Hamilton Alonso could easily build up massive lead. First pit stops created large gap between Hamilton and Kimi and from then on it was all McLaren. Kimi closed down on Hamilton in last few laps but that was too little too late.
Hondas were really bad during the first stint. Their low of the day must have been when one of the Aguris (I think it was Sato) overtook easyly one Honda (Button as far as my eyes could see) sometime half way through the first stint. Hondas improved a bit after first round of pit stops and finished 11th and 12th. This is not what Button paid millions to Williams and Rubens left Ferrari for.
Nick Heidfeld must be very happy after beating one of the Ferraris. True, he only got ahead of Massa thanks to Massa himself. But once in front he kept Massa comfortable behind. On the other hand Kubica will probably want to forget this race quickly and think about Bahrain …
Renaults had rollercoaster weekend. Weak Friday morning, promising Friday afternoon, horrible Saturday. But they got their act together and after good start managed 6th for Fisichella and 8th for Kovalainen. Points in the bag.
One note on Spyker – If they can't build the cars that can at least finish races why they are bothered with cars of others? Would not it be better to forget about Toro Rosso and Super Aguri and focus on their own development?
The 'hottest race' is over. Rain and storms were always close but did not come. Race had some good moments at the early stages (Massa vs. Hamilton), later on the action moved down to the middle of the pack. Pity the rain started only 3 hours after the race …