Great! We are going to see this again in F1 too!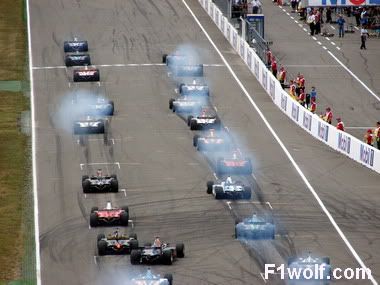 FIA World Council banned traction control from 2008 (again) and this time FIA is even confident they can police the rule. So back will be smoking tyres … However the slicks are not returning yet. Reasons were not given, but what else could it be if not this …


Just kidding here …

But the white groove is real thing – it will replace the infamous 3 cm dot on the softer compound tyre from Malaysian GP.
Three days of Sepang testing were scheduled for last week, rain made it four. The usual suspects were on the top most of the time, and at the back as well. Toyota and Williams probably showing better form than many expected before the season.
Renault team is confident they finally made the Bridgestones work, McLaren believes they are closing gap on Ferrari and Massa is not that sure about the advantage Ferrari has over rest of the pack.
Kimi is still waiting for decision on his engine. However the grid positions may become not so important if the race happens to be wet.
FIA answered questions from McLaren, and will revise its bodywork tests to ensure that the F1 teams don't use illegal floor mounting systems. Flex floors issue closed … for now.
Webber drove around the proposed Singapore track and liked it. However he drove around in the daytime …
Williams signed another sponsor, this time Air Asia.
A bit away from F1 – Tomas Enge, former Prost driver had a nasty accident while leading American Le Mans Series race on the St. Petersburg street circuit in Florida. Hope he will get well soon we can see him racing next season again.